Our Top Priority is your Safety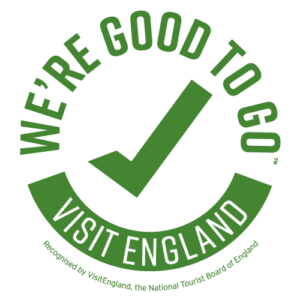 We are once again offering outstanding holidays on the Jurassic Coast!
Update (12/05/2021)
We are complying with the government's restrictions and we ask all of our guests to ensure that they also comply with the restrictions.
If you have any concerns or questions, please contact cottages@lulworth.com
For more information on the national lockdown rules, please visit: https://www.gov.uk/guidance/national-lockdown-stay-at-home
For covid-related Terms & Conditions on new bookings, including cancellation policy, please see here: Booking Terms & Conditions
We are looking forward to once again offer outstanding holidays on the Jurassic Coast!
In order to deliver the best possible holiday to our guests, we have undertaken Coronavirus-specific risk assessments and implemented measures to reduce the risk to the lowest reasonably practicable level.
*Please note this is subject to change and will be updated in response to the ever-changing government guidelines.*
Of paramount importance is the ongoing need for social distancing. We encourage all of our guests and staff to maintain 2 metres' distance from others that are not part of your household. Signage around the Lulworth Estate is in place to remind you of this.
You are also reminded to wash your hands regularly and to use hand sanitiser often. Hand sanitiser stations are available at the areas of highest risk.
Face coverings are mandatory in all shared facilities. This includes our Reception building, and the Recreation barn at the Durdle Door Holiday Cottages.
Additional Cleaning
Across all areas we have implemented increased disinfection and cleaning regimes in line with current government guidance, and in shared locations cleaning schedules will be clearly displayed. In terms of our Cottages, the checklist of items that the housekeepers disinfect with virucidal and bactericidal spray is extensive and includes walls, floors, surfaces and every piece of cutlery and crockery where applicable.
Signage is in place on all shared facilities advising users of any restrictions on use due to Coronavirus control measures, and where high traffic is likely clear signage is in place. We will regularly review and update our assessments and control measures in response to park use and capacity as well as in response to any further published guidance or information.
Shared Facilities
Face coverings are mandatory in all shared facilities. This includes our Reception building, and the Recreation barn at the Durdle Door Holiday Cottages.
The Recreation Barn at Durdle Door Holiday Cottages will be open from the 17th May but will be limited to one household at any one time.
The Swimming Pool at Durdle Door Holiday Cottages is open with a limit on the number of people using it at any time, and the Swimming Pool at The Lindens and Woodside Lodge are both open.
The laundry room remains open and the freezers are separated according to your holiday cottage and a there is a limit on people using the room at any one time.
Playparks: The large children's adventure playpark and the smaller playpark will be open with a limit on the number of people inside each playpark. There are also hand sanitiser units on the gates. Please ensure all children are properly supervised to ensure proper social distancing and hygiene measures are followed – supervising adults will count towards the total limit of people inside the playpark.
What's Changed?
Please note there is no possibility of early check-in. We are also unable to hold any bags or luggage for you.
Please wear a face covering in all shared facilities and indoor areas.
We have removed, wherever possible, the need for face to face contact between staff and guests. Including the implementation of self-check in and introduction of card or contactless payment options only. If you do need to come to Reception, we have installed a hand sanitiser unit by the entrance door, and ask that you do sanitise your hands before entering. We have also introduced Perspex screens in front of our Customer Care team members' terminals, both for your own safety, and for theirs. If you do need to visit Reception, please ensure that only one person does so.
Staffing has been adjusted to minimise risk, including changes to staffing levels and work processes.
We have now introduced self-check in on arrival to all of our types of holiday accommodation. Information about directions and arrivals will be sent to all guests 7 days prior to your stay.
Overall we hope the measures put in place will enhance your experience of the Lulworth Estate and we have no doubts that you'll have a wonderfully relaxing time with us – your piece of paradise.